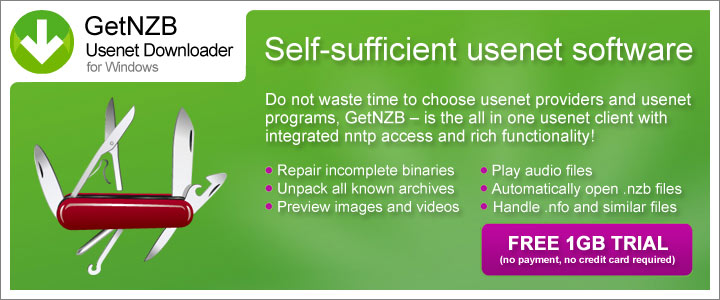 GetNZB – is an exclusive NZB Downloader for searching and downloading files from Usenet. It is a useful and powerful tool, which allows downloading information without having an account of Usenet Provider. The best NZB Search Engines are already built-in inside NZB Downloader. No need to search NZB in different places, just type a word at integrated usenet search module and it will be requested from all Usenet Search Engines showing you results in a second.
The newsgroup client includes everything you need to search for nzb files, download, repair and extract the resulting content. Unlike most newsreaders, GetNZB is tied to it's own service. Those new to GetNZB can download 1000 MB free in order to test the Usenet service and client. We tested a Ubuntu download from around 880 days ago and the completion was perfect. With that said GetNZB has built-in features to take care of PAR repairs. So if you download a RAR set that is damaged or incomplete GetNZB will use the PAR files to repair the content.
Performance varies based on which GetNZB Usenet plan you choose. We tested on a premum account and were pleased with the results. The 820 MB file downloaded at around 25 Mbps. without any disconnects.
Here is a summary of the GetNZB Usenet accounts:
IMPORTANT :
Download speed for free users is very small. You will have full download speed with GetNZB after purchasing premium account.